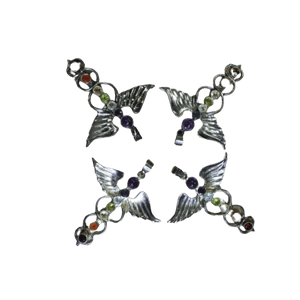 Winged Caduceus Pendant with Chakra Stones by Hermes Trismegistus
Tax included.
Shipping
calculated at checkout.
---
---
The caduceus is the staff carried by Hermes in Greek mythology and consequently by Hermes Trismegistus in Greco-Egyptian mythology. The same staff was also borne by heralds in general, for example by Iris, the messenger of Hera. It is a short staff entwined by two serpents, sometimes surmounted by wings.