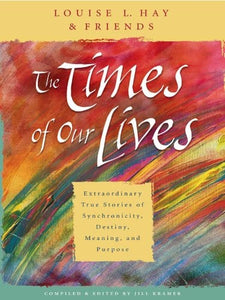 The Times of Our Lives by Louise Hay and Friends
Tax included.
Shipping
calculated at checkout.
---
---
The true experiences that are featured in this book, introduced by best-selling author Louise L. Hay, have been culled from the writings of some of the most renowned writers and teachers in the fields of self-help, transformation, social consciousness, and spirituality. These are stories reflecting metaphysical miracles; momentous milestones; heartwarming, humorous, and sometimes heartbreaking reminiscences; and extraordinarily poignant personal accounts.
In addition, there are many narratives that will actually make you sit back in your seat and exclaim, wow!
As you read this uniquely fascinating book, you'll laugh, you'll cry . . . and most of all, you'll be reminded that truth is not only stranger than fictions infinitely more interesting!