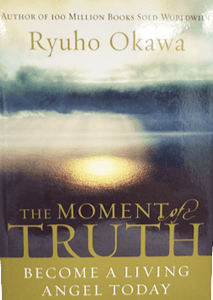 The Moment of Truth: Become a Living Angel Today by Ryuho Okawa
Tax included.
Shipping
calculated at checkout.
---
---
WORLDWIDE SPIRITUAL SENSATION RYUHO OKAWA, BRINGS YOU A MESSAGE FROM God
The Moment of Truth: Become a Living Angel Today, by MASTER RYUHO OKAWA, awakens your soul to a hidden memory about your true roots as a child of God. A part of God resides within you. This divine essence provides you with the power to FIND YOUR OWN SALVATION, even amid adversities. Today, people have forgotten an essential truth: that we all have the potential to work as God's angels, even as we live on Earth. Master Okawa shows that we are essentially spiritual beings and that our true and LASTING HAPPINESS is not found within the material world but rather in acts of unconditional and selfless love toward the greater world. These pages reveal God's mind. His mercy, and His hope that many of us will become living angels that shine light onto this world. Seek the light within yourself, and there you will find God's Will, compassion, and dream to dispel darkness and conflict and issue an era of WORLDWIDE PEACE ON EARTH.