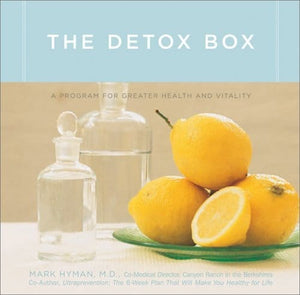 Detox in a Box a Program for Greater Health and Vitality by Mark Hyman M.D.
Tax included.
Shipping
calculated at checkout.
---
---

Created by holistic physician Mark Hyman, M.D., The Detox Box gives you everything you need to complete a safe, effective, and medically informed detoxification program at home. Designed for total cleansing to remove toxins and allergens, boost immunity, and restore energy levels, the program can be done in 7, 14, or 21 days.
The Detox Box includes a Study Guide; 2 CDs (1- medical/scientific reasons to detoxify, 2- three 20 min. yoga sequences to support detox); 70 Flash Cards with program-diet & supplements, contemplative activities and yoga practices, preparation checklists, daily schedules, shopping lists and more;  2 Questionnaires to help you assess your levels of exposure Produced by Susan Piver and Padma Media.
Does Your Body Detox System Need a Jump Start? The Detox Box contains questionnaires to help you determine if you should undertake the program, and, if so, how often.
Kit Includes: 64-page study guidebook, 2 CDs, 70 flashcards, 2 questionnaires