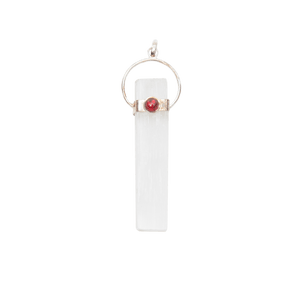 Selenite Pendant
Tax included.
Shipping
calculated at checkout.
---
---
Selenite: is perfect for all types of energy cleansing. It is one of the the very few minerals that has the ability to quickly unblock stagnant energy and remove negative energy. Selenite stones also greatly magnify the energy of anything that is placed upon them.
This clarity enhances mental flexibility and enables strong decision making abilities. Selenite Selenite opens the Crown and Higher Chakras and is excellent for meditation or spiritual work. Aids in spiritual development. Grounds and aligns the chakras, physical healing and promoting restful sleep. Is very calming and brings deep peace

Selenite is used in crystal healing for removing blocks to healing, dissolving secondary gain issues, confusion, particularly from alzheimer's disease or dementia. It also promotes flexibility, assists with absorption of calcium and other minerals and vitamins. Selenite is used to promote fertility, increase the libido, and is a protector of pregnancy and motherhood.