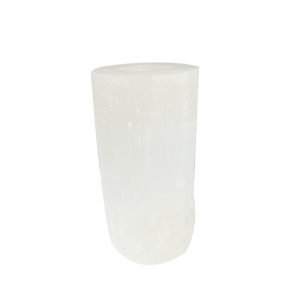 Selenite Candle Holder
Tax included.
Shipping
calculated at checkout.
---
---
The Selenite Candle Holder combines the healing power of selenite with the clearing energy of white tea light candles to cleanse and purify the energy of your home, office or sacred space. It quickly unblocks any stuck or stagnant energy to promote a healthy flow of positive energy throughout your space.
This gypsum gem is peaceful and gentle, yet potent and strong. Low frequencies naturally rise in the vibrational presence of this crystal. As it purifies the energy in a space and attunes you to the Greater Good of all beings, it also connects you to the consciousness of your higher self known as the "Happiness Stone", selenite is quick and efficient at cleansing the auric and physical bodies-thus making way for greater joy, creativity, and higher frequency energies to flow freely through. Selenite resonates with the Third Eye, Crown, and Soul Star Chakras, and facilitates the transmission of guidance from one's spirit guides and guardian angels.