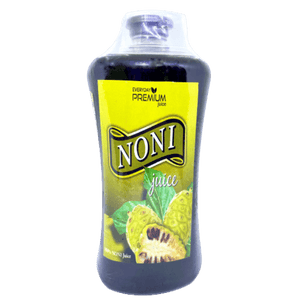 Everyday Organics: Noni Juice 1 Liter
Tax included.
Shipping
calculated at checkout.
---
---
Noni Juice is derived from the fruit of a tropical evergreen plant called Noni (popularly known as Indian mulberry). It is a shrub native to Southern and South-East Asia and the Pacific islands and is even mentioned in ancient Ayurvedic texts. The fruit of Noni has been used medicinally to boost the immune system and detoxify the body for thousands of years, says Dr. Manoj K. Ahuja, Fortis Hospital. It is rich in powerful antioxidants such as Vitamin C, Vitamin A, Vitamin B3 (niacin), and iron.
Expiration Date: Sept 01, 2024
Here are 10 Health Benefits of Noni Juice, and why it's good for you:
1. Treats Arthritis
2. Lowers Risk of Gout
3. Boosts Energy
4. Moisturises Skin
5. Fights Aging
6. Treats Scalp Irritation
7. Prevents Cancer
8. Boosts Immunity
9. Reduces Stress
10. Treats Fever