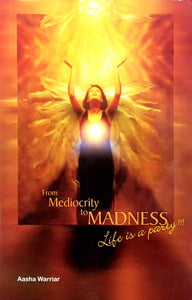 From Mediocrity to Madness Life is a Party by Aasha Warriar
Tax included.
Shipping
calculated at checkout.
---
---
This is based on real-life Past Life cases and gives an in-depth understanding of how the Mind works and resolves unexplained issues for eg. Patterns in life such as recurring backaches, relationship issues, compulsive hatred, even touching upon "spirits and possessed cases (the basis and scientific explanation) supported by the author's understanding about the subject.
Regression has been a topic of discussion and apprehension for centuries. India has records of spontaneous regression cases and unexplained miraculous healings through these regressions. The book is about techniques that have given effective long-lasting results. It clearly mentions that the author does not wish to alter, challenge or change the belief systems of any of the readers. It is merely a factual compilation of extraordinary therapeutic results achieved through a radical process involving the Human Mind.