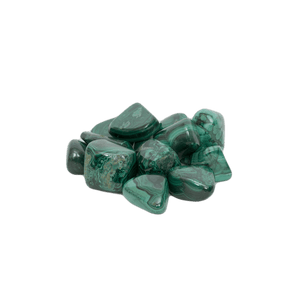 Malachite Tumbled Stone
Tax included.
Shipping
calculated at checkout.
---
---
Malachite reminds us to turn over a new leaf. If you're drawn to the vibrant Malachite crystal, it could mean that it's time for a change. Known as the stone of transformation, the Malachite crystal meaning helps bring energy and focus to new growth while pruning off the brambles holding you back. Get a spiritual makeover with the Malachite crystal stone and use its healing properties to give a burst of fuel to the fiery passions of your heart. Whatever you're searching for--love, money, power--Malachite offers you the gift of wisdom to know the difference between the abundance of the spirit and monetary wealth.

Meditate with Malachite and feel all chakra centers being cleansed and purified, removing emotional blockages and opening your heart up to new experiences. If you find yourself wandering down memory lane, Malachite reminds you that memories are like an old highway. If you stay too long you might lose your way. Keep the past in the dust and move on, that's the message of Malachite. The Malachite crystal is also excellent for new relationships. Known in the crystal healing world as a warrior stone, Malachite serves as a guardian of the heart, the area that often takes a brutal beating. Whether it's closed to heal emotional wounds or open to new love, Malachite is on guard, allowing its healing energy to flow through your heart chakras and giving you a new sense of vitality and spiritual renewal. Depression is the common cold of mental illness and Malachite crystal healing properties are an effective antidepressant against the everyday blues. Wear Malachite crystal jewelry and feel it balancing out your highs and lows as it returns you to an even plane of positivity and optimism. It also works as a mood stabilizer by neutralizing any toxic energy in your world and guarding your spirit against any outside negativity. Gaze at the lush green color of Malachite and feel your world becoming illuminated by the vibrant colors of nature.

When you channel the powerful vibrations of this stone, it's a direct link to photosynthesis and the miracle of light transforming into energy, which sustains life. Like a forest of green, the spirit of Malachite is all about growth and progress as it helps you prune away old belief systems and thought patterns no longer serving you. Malachite also helps you open the doors to the universe and all its beauty and wonder. It was Albert Einstein who said, Look deep into nature and then you will understand everything better If you get stuck on a project, call on Malachite to help bring you out of a rut by giving you a deeper understanding of your true creative spirit. To encourage positive, life-affirming thoughts, practice walking meditation in nature while holding your Malachite stone and contemplate your intention for healing and transformation.