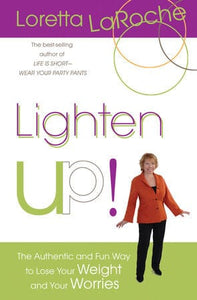 Lighten Up The Authentic and Fun Way to Lose Your Weight and your Worries by Loretta Laroche
Tax included.
Shipping
calculated at checkout.
---
---
LIGHTEN UP
In this humorous and informative book, Loretta cuts through the nonsense, disclosing the wisdom she's accumulated from "having gained and lost a tribe of people." She also shares her expertise as an international stress consultant, former aerobics instructor, and owner of a wellness center. Her secrets for reducing weight and stress might surprise you as she leads you down the path of learning to eat well, moving with joy, and living a more balanced life. Her greatest promise is that you"ll get into shape. . . and have fun while you're doing it!