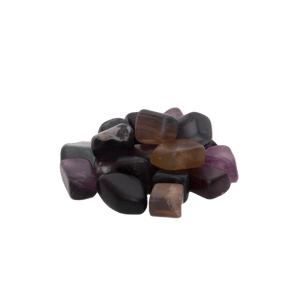 Fluorite Tumbled Stone
Tax included.
Shipping
calculated at checkout.
---
---
For those suffering from attention deficit disorder or learning disabilities, the Fluorite crystal healing properties work to calm and soothe the mind by starving your distractions. Fluorite encourages us to step away from our daily electronics because the secrets of the universe aren't going to be found on the Internet. But if you feed the soul with the spiritual nutrition of Fluorite, you'll begin to trust your own creative process.
Adulting can be hard, especially when you're feeling overwhelmed by daily responsibilities. Introduce the Fluorite crystal properties into your gemstone first aid kit and always have a remedy for breaking through those frustrating mental blocks caused by a troubled and overstressed mind. Fluorite reminds us that we have enough, we do enough, and we are enough, so sink into the bath with Fluorite and soon your future will be crystal clear. Its positive vibes are amplified in the water, creating a powerful but gentle healing effect that instantly releases tension and stress.
*(Green, Purple, Mixed)