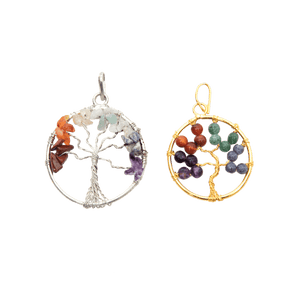 Chakra Tree Agate Pendant
Tax included.
Shipping
calculated at checkout.
---
---
The art of chakra pendant has been used for centuries to balance important energy centers in our body called chakras. We can use a number of different chakra pendant tools such as stones or meditation during chakra balancing. The end result will be a physically healthier body and a happier, more peaceful you.



Gives Peace of Mind, Positive Energy, Meditation, Relaxation. The Chakras are the seven power points in the human body that circulate energy or the life force also known as prana. Wear this pendant to clear the energy flow of the chakras. The healing stone meanings have been gathered throughout the centuries... in many cases since ancient times. While we do not know for certain exactly when their meanings were discovered... we do know that healing stones have been in use for a long time. In ancient times these stones were used for quite a few different purposes. Many of them were used as dyes. They were ground to a powder and were one of the methods available to color clothing and textiles. Some ancient textiles have been found to be colored using common crystals. And some were ground and painted on the skin...for religious or shamanic ceremonies. The healing stone meanings did not just become apparent at one time... but over many hundreds of years. Once natural crystals came into everyday use in their lives... healing stones were then commonly grouped according to peoples month of birth.