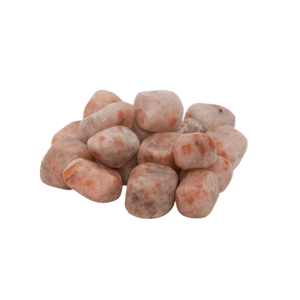 Sunstone Tumbled Stone
Tax included.
Shipping
calculated at checkout.
---
---
Sunstone is an abundance stone. It encourages independence and originality, is inspirational in revealing talents, and attracts fame and unexpected prosperity. It is an excellent "good luck" crystal for competitions.
Wear Sunstone to feel alive and enthusiastic. It increases vitality and is beneficial in starting, and maintaining, a fitness program or aerobic activity, and for occupations requiring high energy throughout the day. As a workplace crystal, Sunstone increases your profile and brings opportunities for leadership and promotion. Place next to your computer when advertising your own business or services online.
Sunstone provides a source of strength if you are dependent on others emotionally, or have suffered the sudden loss of a partner. It helps alleviate fearfulness and stress and protects against those who drain your energies or finances. It is also an excellent crystal for phobia sufferers to ease the fear of the dark, enclosed places, or the presence of other triggers.
Worn as a ring on the receptive hand, Sunstone helps one receive what is needed and desired. On the transmitting hand, it channels multiple healings and blessings to others. Worn as a pendant, Sunstone brings the heart's wisdom into alignment with the mind's inspirations.