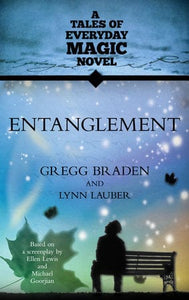 Entanglement by Gregg Braden and Lynn Lauber
Tax included.
Shipping
calculated at checkout.
---
---
Entanglement by Gregg Braden and Lynn Lauber
Entanglement, the new novel based on the teachings of New York Times best-selling author Gregg Braden, explores the exciting world of quantum physics through the experiences of twin brothers.

Charlie and Jack Franklin have always experienced life differently than your average brothers. As children, each was able to sense when the other was in danger, when the other was sad, or when the other was happy. However, as adults, these two brothers took different paths: Jack stayed in their hometown to practice his art and Charlie joined the army, only to be deployed to Afghanistan.

After a frightening vision jolts Jack into consciousness, he begins his quest to get in touch with Charlie. Along the way, he encounters his high-school physics teacher, who helps him understand the connection the brothers have and the larger universal oneness of which we are all apart.
About the Author
New York Times best-selling author of The Divine Matrix, Fractal Time, and The God Code, Gregg Braden is internationally renowned as a pioneer in bridging science and spirituality. Following a successful career as a Computer Geologist for Phillips Petroleum during the 1970s energy crisis, he worked as a Senior Computer Systems Designer with Martin Marietta during the last years of the Cold War. In 1991, he became The First Technical Operations Manager for Cisco Systems, where he led the development of the global support team assuring the reliability of the internet in its early days. Website: www.greggbraden.com
Lynn Lauber is a fiction and nonfiction author, teacher, and book collaborator. She has published three books of her own with W.W. Norton & Co., as well as many collaborations with other authors. Her specialties include fiction, personal narrative, and self-improvement. Her essays have appeared in The New York Times. She has abridged audiobooks for such authors as John Updike, Oliver Sacks, Oprah Winfrey, and Gore Vidal.  Visit: www.lynnlauber.com